Across the Ashley River from the Charleston peninsula is West Ashley (zip codes 29407 and 29414). The 56.4-square-mile area is part of the city of Charleston, but a distinct community unto itself. Initially settled in 1670, West Ashley is actually the first site of Charleston — known at that time as Charles Towne. After Charles Towne was moved to the peninsula in 1680, West Ashley was for the next 200 years was called Saint Andrew's Parish. Numerous plantations developed along the Ashley River, and the area remained largely agricultural until the 1920s and 1930s.
Despite a large residential population boom in the 1940s thanks to World War II and an increased military presence in the area, West Ashley remained an unincorporated parish until 20 years later. In 1960, Charleston was ready to expand its city limits for the first time since 1849, and parts of West Ashley voted to merge with the city.
West Ashley is connected to the Charleston peninsula via two bridges; the southbound Ashley River Memorial Bridge is a drawbridge built in 1926 as a memorial to World War I soldiers. A second drawbridge, the T. Allen Legare Bridge, was built parallel to the first in the 1960s as traffic increased. A third bridge over the Ashley River at Cosgrove Road connects West Ashley to North Charleston and Interstate 26. The Mark Clark Expressway (Interstate 526) also spans the Ashley River, linking West Ashley to North Charleston and Mount Pleasant. The Wappoo Creek Bridge, also a drawbridge, connects West Ashley to James Island. Highway 17 runs through West Ashley, connecting it with Beaufort and Interstate 95. Highway 61 is the other main thoroughfare in West Ashley. Depending on which part of West Ashley you are traveling from, the area is a 5-25-minute commute to downtown Charleston.
The West Ashley area is home to a 10-mile greenway bike trail and footpath and numerous historic sites, including Charles Towne Landing, Middleton Place, Drayton Hall and Magnolia Plantation and Gardens. Residents also enjoy the Shadowmoss Plantation Golf Course, tennis courts, fishing areas and plenty of other recreation opportunities along the scenic Ashley River.
Housing options in West Ashley are diverse; the 29407 zip code is the area closest to downtown Charleston and includes beautiful older homes built in the 1920s and 1930s and homes from the 1940s-1960s era. These homes range from modest brick ranches to sprawling water and marsh-front estates on wooded lots with majestic oaks. Prices start in the mid-100,000s and climb to the $700,000-$900,000 price range and beyond. The 29414 zip code is the newer area of West Ashley. Golf course communities and other newer planned communities. Homes date from the 1980s to brand new constructions and range in price from the mid-$100,000s on up to $1 million plus, depending on home and lot sizes.
West Ashley is in the Charleston County school district and includes one public high school, three middle schools and five public elementary schools. Also in West Ashley are several prestigious private schools, including Porter-Gaud, a K-12 college preparatory school, and several other church-affiliated schools.
Major providers of West Ashley jobs include Bon Secours and numerous other healthcare facilities, retailers in and around the Citadel Mall, large hotels, financial institutions, legal and insurance offices, restaurants, Hagemeyer North America, the Catholic Diocese of Charleston and a large concentration of automobile dealers.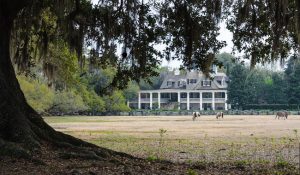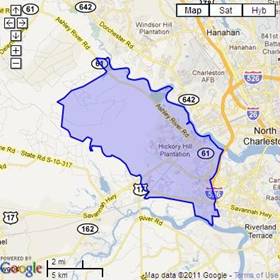 Home in The Crescent — One of Charlestons TOP Luxury neighborhoods.