On the way from downtown Charleston to Folly Beach sits the thriving community of James Island (zip code 29412). The area has probably one of the most colorful modern histories in the Lowcountry, marked by an almost continuous struggle since 1993 to break away from the city of Charleston to become its own South Carolina State Legislature–recognized town. Each of the three times residents have voted to incorporate has ended in a lawsuit by the city of Charleston. The town of James Island was most recently in existence from 2008 until 2011. James Island is situated within Charleston County, and parts of the 42-square-mile sea island have been annexed by the city of Charleston.
After the end of the plantation era (James Island had about 20 documented plantations that could not survive after the Civil War), small farms defined the economy of the island. It was not until around World War II that the population of the community and development in the area began to boom.
Today, the mainly residential James Island is situated five miles off Interstate 26 and convenient to the Charleston peninsula, West Ashley, Johns Island and Folly Beach. James Island's first neighborhood began in the 1940s and surrounds the municipal golf course on Maybank Highway; other neighborhoods were developed through the 1990s, and there are some new constructions mixed in with the older homes. Housing prices range from the upper $100,000s for starter homes on up to multimillion-dollar waterfront luxury homes.
Most of the James Island jobs providers are related to servicing the residential population, such as medical and healthcare offices, restaurants, schools, grocery stores and other similar businesses. Other common employers on James Island include a wide range of small professional services firms and construction and building companies. The Bishop Gadsden nursing home is also a major area employer.
James Island has numerous parks and recreational facilities as well as notable historic sites, including Fort Lamar and McLeod Plantation. The James Island County Park hosts the wildly popular Holiday Festival of Lights, the Lowcountry Cajun Festival and the Reggae Nights Summer Concert Series.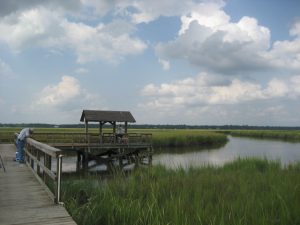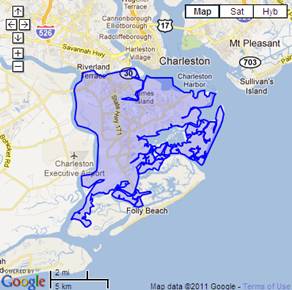 For more information on James Island, SC:
http://www.sciway.net/city/jamesisland.html
http://www.abcnews4.com/story/15579134/the-fight-for-james-island-continues
http://www.ccprc.com/index.aspx?nid=68