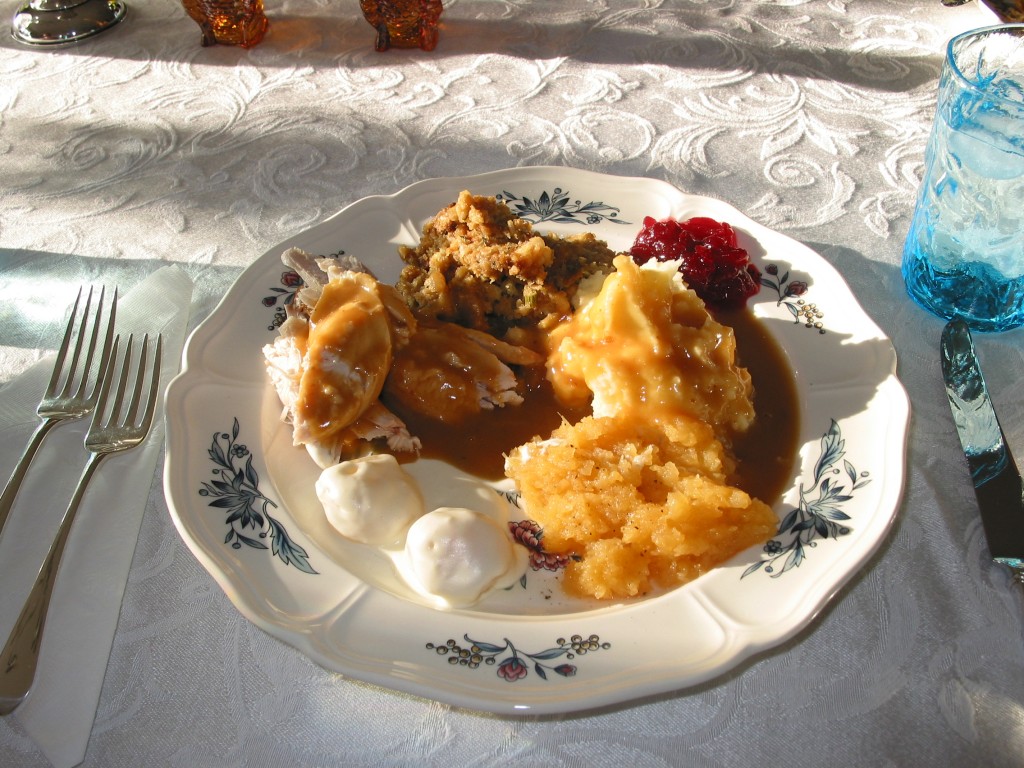 Well, a cold front has blown into the Lowcountry; temperatures plummeted from 76 degrees this afternoon to a nippy 58 degrees this evening — just in time to get everyone here in the mood for the holidays. … At least for a little while, as it looks like the 70-degree weather will return by the weekend.
Whether it's hot or cold, sunny or dreary, the holidays in the Charleston area are always special. Something that has become a bit of a Lowcountry tradition is taking to the fine restaurants of Charleston for Thanksgiving. For anyone who cooks every year without fail, this might seem a little untraditional, but it is really a great way to make the Thanksgiving holiday special while avoiding a lot of the stress that comes along with the big eating day.
One of the hallmarks of fine dining restaurants in Charleston is the use of local ingredients, and our talented chefs pull out all the stops for Thanksgiving, putting their own spin on traditional turkey and stuffing. We've been salivating over all the delicious Thanksgiving menus featured by downtown Charleston area restaurants and wanted to share some of the best offerings. Instead of spending the next week preparing for the big meal, give one of these restaurants a call to make a reservation for Turkey Day — you'll never want to cook for the holiday again!
High Cotton is offering a Keegan-Filion Farms free-range turkey dinner with cornbread stuffing, buttermilk mashed potatoes, green bean casserole, cranberry compote and giblet gravy. And they'll even send you home with turkey sandwich to-go, complete with a cornbread stuffing, cranberry compote, sliced sourdough bread and gravy on the side. If you're not in the mood for turkey, High Cotton's Thanksgiving menu also includes pumpkinseed crusted salmon and braised beef short ribs.
82 Queen is serving Thanksgiving dinner from Noon to 8:00 p.m. Their traditional dinner includes a choice of Bourbon-glazed ham, herb-roasted turkey or turkey osso bucco with butter mashed potatoes, cornbread stuffing, green bean and cremini mushroom casserole, and cranberry sauce. They're also serving up sweet potatoes with toasted marshmallow and Lowcountry collard greens. For non-traditionalists, 82 Queen features lump crab cakes and crispy duck breast with a bing cherry glaze. Oh, and for desert, they'll be having pumpkin pie, bourbon pecan pie and chocolate spice torte.
Anson's turkey dinner features roasted turkey, cranberry relish, giblet gravy, green beans, sweet potato puree, whipped potatoes and cornbread dressing. They're also offering a special vegetarian Thanksgiving harvest dinner with apple and leek butternut squash gratin; sweet potato cannelloni (apple, sweet potato puree, ricotta cheese, maple glazed parsnips and carrots); roasted brussel sprouts and cranberry brown butter; and a warm carrot and lentil salad (golden raisins, apricots and beluga lentils). There is also plenty of seafood on the menu, and for dessert: Madagascar Vanilla Panna Cotta, Olive Oil and Lemon Pound Cake, Almond Flour Bundt Cake, Pineapple UpsideDown Cake and Apple Tart Tatin.
Husk will be serving a three-course pre fixe menu on Thanksgiving Day from 11:00 am to 7:00 p.m., but they have not yet posted the menu. Their menu changes daily according to what is available locally. They do promise that turkey will be available. Husk's 2010 Thanksgiving menu included Craig Rogers' Heritage Bronze turkey, Giddy Goat potatoes, pole beans with smoky tomatoes, a stuffing of cornbread, Surry sausage and apples, and of course turkey gravy. And for Thanksgiving dessert, Husk offered Abita root beer cake, pumpkin bread pudding, bourbon pecan pie and inverted black bottom pie.
Magnolias restaurant will be open from 11:30 a.m. to 10:00 p.m. on Thanksgiving. Their menu includes a choice of Tennessee tom turkey, pecan crusted salmon or roasted pork tenderloin with buttermilk whipped potatoes, country green beans, herb stuffing and cranberry sauce. Desserts include sweet potato pie and coconut cream pie.
Oak Steak House will be serving a special Turkey Day menu in addition to their regular menu. The Thanksgiving meal will include butternut squash bisque, baby spinach salad and roasted Ashley Farms turkey breast with local oyster and Geechie Boy cornmeal stuffing, sautéed Brussels sprouts, charred baby carrots fresh cranberry compote and bourbon chocolate SC pecan pie for dessert.
Other restaurants that will be serving a special Thanksgiving dinner include Slightly North of Broad (check out their special pumpkin martini), Carolina's (Southern-bistro-style three-course dinner with dessert), Hall's Chophouse (traditional turkey dinner and a special apple cobbler in addition to their regular menu), McCrady's restaurant (offering a special three-course menu), the Library Restaurant at Vendue Inn (open from 1:00–5:00 p.m. and serving a huge Thanksgiving buffet spread with ham and turkey and a choice of three homemade desserts), Cypress (choose between ham and turkey and leave room for the pumpkin cheesecake), Blossom (serving its full seafood menu plus a special holiday-themed selection), Charleston Grill (start with butternut squash and curried apples; finish with butter pecan mousse),Grill 225 (offering a massive Thanksgiving buffet with a huge selection of traditional and nontraditional items, including 13 different desserts), the Peninsula Grill (serving heirloom pumpkin soup, traditional turkey and white chocolate pumpkin bread pudding, just to name a few) Poogan's Porch (traditional and nontraditional Thanksgiving fare) and Tristan (everything from quail to truffled mushroom lasagna to traditional turkey).
If you're convinced to go out for Thanksgiving at a restaurant in Charleston, go ahead and make your reservations now. These special dinners only come once a year and are quite popular. You'll be treated like royalty, and the food will be perfect.