Happy Fourth of July! We cannot think of a better place to celebrate the country's independence than in Charleston, South Carolina. Established more than 100 years before the Revolutionary War, Charleston's roots run deep, indeed. A handful of the real estate in this gorgeous, historic city has been standing since Colonial times, as well. Please enjoy this roundup of pre-Revolutionary homes for sale in Charleston.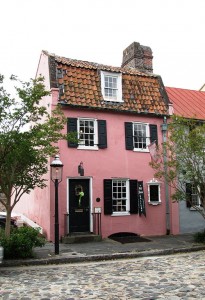 17 Chalmers Street
Not only is this three-story, just-over-1,000 sq. ft. home one of the oldest residences in Charleston, it is also among the oldest masonry structures in the entire United States. Built sometime between 1672 and 1712, the home retains original elements, including 300-year-old fireplaces and a floor-level jib window that opens into a secluded courtyard garden. Located in the French Quarter historic district, Chalmers Street is a cobblestone alleyway named after Dr. Lionel Chalmers, a Scottish physician and scientist. The area also has ties to Freemasonry, as home to one of the oldest Masonic Lodges in the country.
This iconic piece of real estate is listed for just under $1 million, the least expensive pre-Revolutionary Charleston home on the market as of July 4, 2013. For more on this property's colorful history, visit pinkhousegallery.tripod.com.
17 Water Street
Built in 1750, this historic home is located between Meeting and East Bay Streets on a small, two-block thoroughfare that, when it was built, followed the path of the now-filled Vanderhorst Creek. According to several sources, the city's last royal governor fled Charleston during the Revolution via Vanderhorst Creek. The residence at 17 Water Street is said to be the home of the first shoemaker in Charleston. The historic 1,900 sq. ft. home combines Old World atmosphere with modern-day practicalities. The state-of-the-art gourmet kitchen opens via piazza doors to a beautiful covered patio garden.
The $1 million brick and stucco home includes three bedrooms, two and a half bathrooms, luxurious renovations and original details from the 18th century, including two mantel fireplaces.
46 and 48 Tradd Street
This circa 1770 property includes two historic lots, a main house (just under 3,000 sq. ft.) and a carriage house (just over 1,350 sq. ft.). The large brick estate was a gift for Revolutionary War soldier and Secretary of State John Vanderhorst from his father. Tradd Street runs east to west from one side of the Charleston peninsula to the other. The Street is likely named for Richard Tradd, an early resident of the city who had built a house on the street around 1680. The main home at 46 Tradd covers three stories and includes historic elements, such as a library and private courtyard, and modern additions, most notably, the new, well-appointed kitchen.
Priced at just below $3.5 million, the estate was once owned by Jazz Age artist Alfred Hutty.