All across the Lowcountry, efforts are underway to plan for how best to meet tomorrow's transportation needs. The Berkeley-Charleston-Dorchester Council of Governments (COG) is in the process of updating the tricounty's Long-Range Transportation Plan. Updated every five years to meet federal standards and refresh any old ideas, the plan serves as a list of priorities when it comes to directing transportation spending and ultimately shaping how the next generation will get around the area.
Providing an idea of what the area's transportation network could look like in 2040, the Long-Range Transportation Plan goes hand in hand with the COG's regional Walk and Bike Plan. After almost a year of looking at the areas where public demand for bike and pedestrian connectivity was greatest but infrastructure was most lacking, those behind the project have devised a five-phase master plan that could be implemented over the next 30-40 years. Considering the timelines of these two projects, it's important to consider what other major changes might come to Charleston in the next four decades.
A new bus rapid transit (BRT) line is in the works to connect Summerville to the heart of the Charleston peninsula. It could start construction as soon as 2023. Possibly serving as a major transit hub for the BRT line is the Low Line park. Currently, a determined nonprofit is working against the clock to make the 1.6-mile greenway along the spine of the peninsula a reality.
If the Low Line were to happen, it would provide another layer of connectivity for pedestrians and cyclists traveling between Woolfe Street to Mt. Pleasant Street and perhaps beyond if the project is allowed to fully develop. But while the Low Line would improve connectivity and bring a steady stream of customers to the doorsteps of nearby businesses, the dramatic change to the area that runs along the decommissioned rail line would likely serve to increase property values and spur more gentrification in the area. The important thing is that those who call Charleston home plan for tomorrow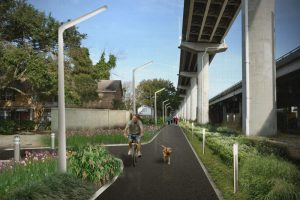 . Ultimately, it's all just a matter of learning to share the road.